Three LGBTQIA-Themed Picture Books in Time for Holiday Shopping

This week, I wanted to introduce you to three picture books with LGBTQIA themes. My kiddo exists somewhere on the rainbow spectrum and has claimed the queer community as his own. As such, I've been on a mission to find him representation in literature.
I made my 10-year-old review these books with me. This is also known as pawning my work off on my child. In my defense, some books that are beloved by adults bore kids to death and I am 45 years old. I wanted to make sure I didn't recommend a book that really wasn't very interesting to children. We had a valuable discussion about intended audience and gatekeepers and who reads books and who pays for books that was incredibly interesting to me. My kid ate cookies and stared at me blankly but still read the books as requested so, winning.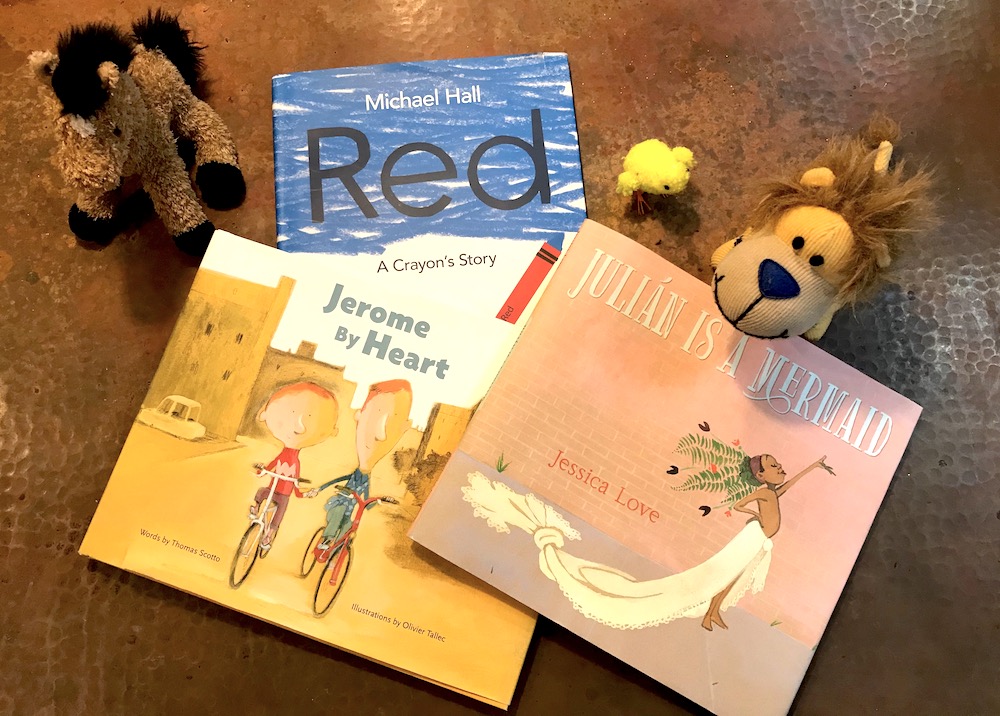 This is a wonderful explantion of being transgender. A blue crayon is labelled as red at the factory, causing all sorts of issues as it tries its hardest to be red, but can't help but being blue. My kid read this at school (yay!) as a buddy read which is when older students read to younger classes. He said it was one of his favorite books of all time. I was so excited about this book when I first read it that I forced my pets to pose with it.
We love Julián! The illustrations are so amazing—there's a dream-like quality to the whole book. What my son took away from it:
"The grandma is very accepting and loves her grandson very much. If you look at the very end, the grandmas get to be mermaids, too."
Julián wants to be a mermaid, so his Abeula helps him dress up and takes him to the mermaid parade. Are some of the meraids drag queens? Are they cig-gendered females? it is up to the reader to decide. One of the coolest things about this book is that it is 100% positive—there are no repercussions for the boy who dresses as a mermaid. It's just simple and beautiful, like we all want the world to be. I'm not sure but I might have commited to taking my kid to the real mermaid parade in Coney Island. If so, I'm getting myself a tail, too.
Bonus for Grandmas that are shaped like my kids' personal grandmas!
Jerome By Heart, by Thomas Scotto, Illustrated by Olivier Tallec (English Trans., originally published in France)
This book follows Raphael, who is smitten with his friend, Jerome. Is it a romance? An intense friendship?
"It's a romance," said my 10 year old, who is obsessed with romance.

"It's a love story, because friend-love is still love," according to my 13 year old.
At any rate, it is sweet, and the illustrations are darling. If you live in a house (like I do) where Candace is always chasing Jeremy on Phineas and Ferb, you may appreciate a book that allows for the idea that you can be smitten with a child of your own gender.

He gave all three books five out of five stars. I asked my kid which was the best book, and he refused to answer.
"These are all books for kids like me."
Finally, I said if someone only had enough money to buy one book, which should they buy? He pushed Julián Is a Mermaid across the table towards me. He coudln't betray the other books by saying it aloud.
You can vote for Julián in the Goodreads Choice Awards, final round Nov. 13-26, winner announced Dec. 4, 2018.