The Talk of a Lifetime

"Did I ever tell you that your grandmother won first place in high school in an all-Boston writing contest?" my mother asked via email. No, she hadn't ever mentioned it before. Her mother, who died before I was born, has always been a series of fragmented stories—more a slide carousel than a home movie.
When I ask my mother about my relatives, she can't always come up with new things to tell me, not because she doesn't want to, but because life is a series of small moments, and we need memory cues to bring them to the surface. Plus, I talk a lot. It can be hard to get a word in edgewise if you don't move quickly.
So how do we facilitate conversations that spark memory and move to deeper levels? By asking questions. How do we think of good questions? By using other people's questions. (it's not laziness, it's efficiency.)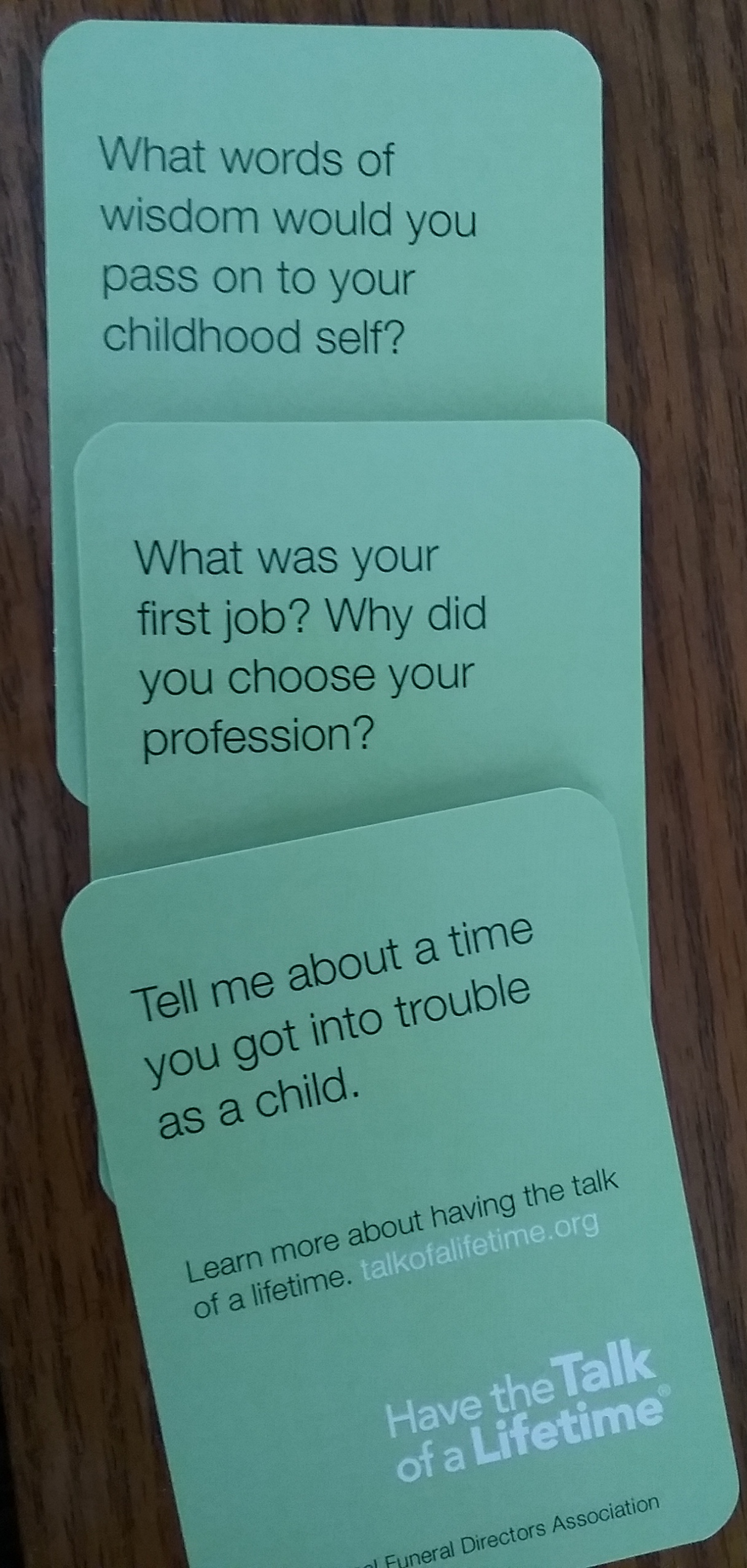 I was recently sent a set of Have a Talk of the Lifetime cards, developed by the National Funeral Directors Association in order to facilitate deeper discussions with family members while they are still alive. I was provided the cards for free in exchange for an honest review. I don't generally do product reviews, but I was actually looking for cards with discussion questions to take on a trip with my children, so I agreed.
I tried to ask my children the questions, but they are really designed for elder family members. My kids liked questions that are more of the "ethical dilemma" category. They are too young to reminisce. Seeing as I already had the cards, I decided to use them for their intended purpose, and ask my mother a question or two. I sent my mother questions via email since she lives out of town. The first question I asked was about her grandmother—a woman I have heard about, but still have only a fuzzy view on.
"What is your most treasured memory of your grandparents?"
My mother sent back a long email about her grandmother, her dog, costume jewelry, and the beach. These little bits of things that I hadn't known rounded out my view of my mother as a child, not just her grandmother. I was surprised at how warm and close I felt to my mother after reading her email. We had managed to transcend the electronic medium—it felt like a shared cup of coffee, like a hand-written note, only legible.
I can't wait to ask her another question from the deck of cards--we both enjoyed the experience very much, and have made it a weekly occurance. I'm also going to prompt my children to use them to ask questions the next time my parents call. My kids tend to go mute when handed a telephone, and I think this will help them find a way in to conversations that matter.