New Release! Skunk and Badger by Amy Timberlake

Tomorrow is the release day for Skunk and Badger, a delightful story by Amy Timberlake with pictures by Jon Klassen.
What do you do when you mess up? I mean really mess up, not just sort-of mess up, and everyone knows it? Skunk and Badger is perfect for the 8- to 10-year-old crowd, but a fine read for people of all ages. Klassen's illustrations have a nostalgic feel that pair nicely with Timberlake's narrative.
From Goodreads:
No one wants a skunk.

They are unwelcome on front stoops. They should not linger in Important Rock Rooms. Skunks should never, ever be allowed to move in. But Skunk is Badger's new roommate, and there is nothing Badger can do about it.

When Skunk plows into Badger's life, everything Badger knows is upended. Tails are flipped. The wrong animal is sprayed. And why-oh-why are there so many chickens?

"Nooooooooooooooooooooo!"

Newbery Honor author Amy Timberlake spins the first tale in a series about two opposites who need to be friends.

New York Times bestselling author/illustrator and Caldecott Medalist Jon Klassen completes the book with his signature lushly textured art. This beautifully bound edition contains both full-color plates and numerous black-and-white illustrations.


This book has a classic feel to it that instantly reminded me of my own treasured childhood stories, both in the weaving of the tale and the adorable illustrations. Yet, the story is timeless. Badger, our rock scientist, just wants to focus on his Important Rock Work, but the unexpected arrival of Skunk has thrown him into a tizzy. Sure, there are some benefits, like hot breakfast, but most of the time Badger just wants Skunk to go away.
This is a delightful story about being wrong, feeling like EVERYONE in the whole world knows you made a bad mistake, and trying to find a way to fix it, even if that means walking around downtown in your pajamas.
It's a wonderful book on overcoming our own misdeeds, being a friend, and making amends.
Available wherever books are sold September 15, 2020 with Algonquin Young Readers. Order your copy on BookShop to support local bookstores, or find it at your library.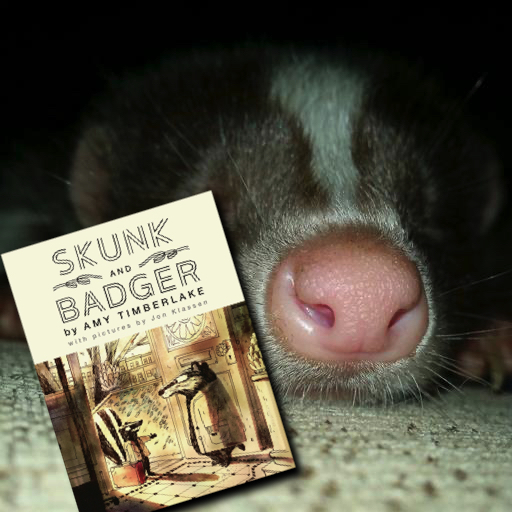 I was provided a free copy in exchange for an honest review.